The Lord of Beginnings' is how they call Lord Ganesha. In India, every auspicious day starts with praying to Lord Ganesha because it is believed that Ganesha wards off all obstacles. Throughout the year, the first of Indian festival is also Ganesh Chaturthi. According to Varaha Purana, Vinayaka Pooja is performed on Bhadrapada Sukla Chaviti.
Ganesha Chaturthi on Saturday, August 22nd, 2020

Madhyahna Ganesha Puja Muhurat – 11:11 AM to 01:39 PM
Duration – 02 Hours 28 Mins
Ganesha Visarjan on Tuesday, September 1, 2020
Time to avoid Moon sighting – 09:08 AM to 09:32 PM
Duration – 12 Hours 24 Mins
Chaturthi Tithi Begins – 11:02 PM on Aug 21, 2020
Chaturthi Tithi Ends – 07:57 PM on Aug 22, 2020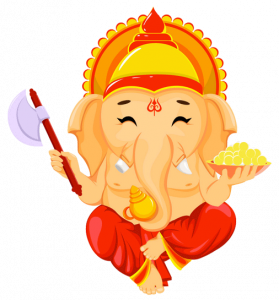 Ganesh Chaturthi is celebrated as the birth anniversary of Lord Ganesha, and this time it falls on Sep 02, 2019. It is time for devotees to celebrate and glorify him. Ganesha is said to be the supreme reality of human existence. The elephant head symbolizes wisdom, and the trunk symbolizes 'Om'. The body signifies Maya or earthly existence. The goad or axe in the right-hand inspires and propels mankind towards the eternal path and removes obstacles from the way. The left hand of Ganesha holds a noose, which captures the difficulties of life. The broken tusk as a pen in his lower hand means sacrifice.
Chanting Mantras
सिंहः प्रसेनमवधीत्सिंहो जाम्बवता हतः।
सुकुमारक मारोदीस्तव ह्येष स्यमन्तकः॥
Simhah Prasenamavadhitsimho Jambavata Hatah।
Sukumaraka Marodistava Hyesha Syamantakah॥
On the other hand, Ganesha holds a rosary, which says that man's quest for knowledge should never end. The laddoo (sweet) in his trunk means to discover the sweetness of the Atma. His large ears convey that he hears our prayer, and the snake around his waist signifies energy. He's riding a mouse symbolizes humbleness; it shows his willingness to ride the lowest creature.
The first Chakra, or energy wheel, is also associated with Ganesha, which underpins all of the other Chakras, and represents survival and material well-being. Devotees believe Ganesha is a patron of the arts, sciences, and letters, and if Ganesha is worshipped, he grants success. Ganesh is also known as the demolisher of pride and selfishness.
Most Indian festivals are based on the lunar calendar. The word Chaturthi means fourth; hence, Ganesh Chaturthi falls on the fourth day of the waxing phase of the moon. Also like all other festivals, the Ganesh Chaturthi day relates to the moon being in a particular zodiac sign within certain degrees, and this is known as 'Nakshatra.' A particular star or constellation is also called 'Nakshatra.' Ganesh Chaturthi falls with the moon in Libra, which is Nakshatra of Swathi. It is believed that one should avoid looking at the moon during Ganesh Chaturthi as it might bring hardships in one's life.
As a remedy for various astrological problems, the worship of Lord Ganesha is suggested the most. Legend has it that Lord Ganesha becomes an efficient remedy when it comes to deal with Moon, Mercury, Mars, and Ketu. Tuesday and Wednesday are the favourable days to worship Lord Ganesha as part of astrological remedies.

The Ganesh Chaturthi festival was popularised by Lokmanya Tilak during the freedom movement. The community celebration is very lively; colorful Idols of Lord Ganesha are installed at homes and in public places. The celebration 'Ganeshotsav' ends after ten days on Ganesh Visarjan day, which is also known as Anant Chaturdashi. On Ganesh Visarjan, devotees immerse the idol of Lord Ganesh in water.
The Ganesh Chaturthi Festival is observed throughout India, especially in the states such as Maharashtra, Madhya Pradesh, Karnataka, Goa, Telangana, Gujarat and Chhattisgarh, and is usually celebrated privately at home in states such as Tamil Nadu, and Andhra Pradesh.