Nag Panchami 2020
Nag Panchami or Naga Panchami is one of the significant festivals that fall during the 5th holy Hindu month 'Shravan.' Nag Panchami is celebrated with a great amount of devotion.
Nag Panchami on Saturday, July 25, 2020
Nag Panchami Puja Muhurat – 06:13 AM to 08:50 AM
Duration – 02 Hours 37 Mins
Panchami Tithi Begins – 02:34 PM on Jul 24, 2020
Panchami Tithi Ends – 12:02 PM on Jul 25, 2020
Nagas or snakes constitute mystic wisdom, knowledge, and the power to control mortality; it also marks to renew unfavorable qualities of sins, bitterness, and greed. It is believed that worshipping is to acquire the effectiveness of the Nagas and to control their negative traits.
Sarpa Dosha:
According to Hindu astrology, Snake has an association with the Moon's nodes. The head of the snake symbolize Rahu and the tail is said to be Ketu. In the zodiacal chart of a person, if all the seven major planets are bunched between Rahu and Ketu in anticlockwise order, it is known to be Sarpa dosha.
Sarpa is the other name of Naga, and it is believed that if a man's past action reflects as karma in his present life, it is said to be the curse of the Nagas. This ruminates as Sarpa Dosha in our birth charts. So people worship the Nagas to seek their blessings instead of their anger. It is significant for those who want to appease the negative prospects of their birth chart.

As said Nag Panchami and Sarpa dosha are connected to each other, and reciting Nag mantra or Nag strotra on this auspicious day is considered to receive the blessings of Nagas. The Nag Panchami mantra or strotra to be recited on this day is "Om Kurukulye Hum Phat Swaha." It should be narrated either 11, 21 or 108 times to ward-off all evils, and to remain protected from all the bad effects of Sarpa dosha.
Nagula Panchami Puja Mantra
सर्वे नागाः प्रीयन्तां मे ये केचित् पृथ्वीतले।
ये च हेलिमरीचिस्था येऽन्तरे दिवि संस्थिताः॥
ये नदीषु महानागा ये सरस्वतिगामिनः।
ये च वापीतडगेषु तेषु सर्वेषु वै नमः॥
How to worship?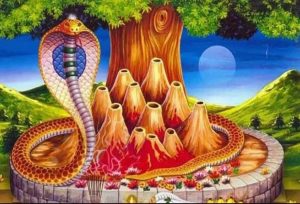 Nag Panchami Pooja begins with bathing as purification and then wearing conventional dresses. Sweets prepared with coconut and with black sesame seeds ladoos are made at home as a holy offering to the Lord of the snakes. Rituals are held in temples, and snake idols are made of clay in the honors of nine prominent snake gods- Vasuki, Anantha, Sesha, Kambala, Shankhapala, Takshaka, Padmanabha, Manasa, and Kaliya. In some parts of Eastern India, Nag Panchami is dedicated to the worship of the snake goddess, Manasa. Devotees apply red vermillion powder on the forehead of the idol and perform aarti, by lightening up the place with oil lamps.
You should observe fast on Nag Panchami day, and should not eat any heavy food even after you break the fast. After sunset you should have a pure vegetarian meal, milk is said to be the ideal food on this day.
On Naga Panchami, people feed milk to snakes as a part of the celebration. It is done to free them from sarpa dosh. People also donate on Naga Panchami day.
Naga Panchami is also observed as Bhratru Panchami in some parts of India. Here the women offer prayers and seek the protection of their brothers from snake bites.
The positive of Nag Panchami Pooja is that it gets rid of all the curses from the life of an individual, and he can enjoy a better life without problems.
Previous:  Nagula Chavithi (Naga Chaturthi)
Get Your Easy Panchanga with Astro-Vision's Best Astrology Software for Muhurtha and Panchanga