Swami Vivekananda Jayanti 2021
The man who practiced what he preached
158th Birth Anniversary of Swami Vivekananda
Swami Vivekananda (1863-1902 C.E.)
In 1984, the Government of India declared 12 January as the National Youth Day
Early Life and Education
Narendranath Dutta, January 12, 1863, was born on the occasion of Makar Sankranti, to Vishwanath Dutta and Bhuvaneshwari Devi. His father was an outstanding and lucrative attorney. He was a man with substantial influence on society and interests in a wide range of subjects. At the same time, his mother was a woman endowed with strong character and a deeply devoted God-fearing mind which had a great impact on her son.
An exceptionally smart child, Narendranath was quite beyond his age in understanding. Though quite mischievous, there was a sharp intellect along with a deep interest in music, both instrumental as well as vocal. His studies were par excellence, first at the Metropolitan institution and later at the Presidency College in Calcutta. By the time he saw graduation, vast knowledge of different subjects was acquired. An avid sportsman, he was into gymnastics, wrestling, and bodybuilding. Being a passionate reader, he read up on almost everything under the sun. On one hand, the Bhagavad Gita and the Upanishads were pursued while on the other, western philosophy, history and spirituality by David Hume, Johann Gottlieb Fichte, and Herbert Spencer.
A Spiritual Crisis that gave birth to a guru-disciple bond
At the beginning of Narendranath's youth went through a deep spiritual crisis. Though brought up in a religious atmosphere at home, his knowledge questioned the existence of God which led him to believe in Agnosticism for a while. He was associated with the Brahmo Movement too for a while, who believed in one God. He was constantly troubled by zillion philosophical questions regarding the existence of God. It was during this mental turmoil that Vivekananda heard about Sri Ramakrishna from William Hastie, the Principal of the Scottish Church College.

In the earlier days, Narendranath when visiting prominent spiritual leaders from all faiths would ask them a single question, "Have you seen God?" Each time he came away without a satisfying answer. One fine day, in November 1881 he posed this same question to Sri Ramkrishna at his residence in Dakshinewar Kali Temple compounds. Without a moment's hesitation, Sri Ramakrishna replied: "Yes, I have. I see God as clearly as I see you, only in a much deeper sense." Narendranath though unimpressed by the simplicity of Ramakrishna was dumbfounded by his reply. By removing doubts from the mind of Narendranath, Sri Ramakrishna won him over with his patience and love. Thus began a guru-disciple relationship that is thoroughly unique in the history of spiritual masters. Under the guidance of his Guru, Narendranath made rapid strides on the path of spirituality.
Spiritual Awakening through the crisis undergone
1884 brought on huge financial distress due to the death of his father. The responsibility of supporting his mother and younger siblings fell on his shoulders. Upon asking his Guru to pray to the Goddess for the financial welfare of his family, he was suggested that he do it instead. Narendranath went to the temple of the Goddess to pray but was unable to do so. As he faced the Goddess, he could not ask for money and wealth, instead, he asked for 'Vivek' (conscience) and 'Bairagya' (reclusion). That very day marked the complete spiritual awakening of Narendranath and found himself drawn to an ascetic way of life.
The second crisis was the illness of Sri Ramakrishna which was diagnosed to be cancer of the throat. September 1885 saw Sri Ramakrishna moved to a house at Shyampukur and then a few months later to a rented villa at Cossipore. The young disciples nursed the Master with devoted care. In spite of poverty at home and no job, Narendra joined the group as its leader. Sri Ramakrishna gave up his mortal body on 16 August 1886.
Life of a monk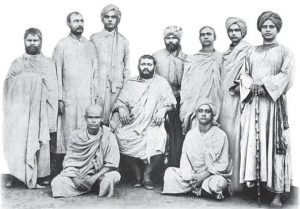 After the demise of the Guru, around fifteen of his disciples including Narendranath lived together in a ran down building at Baranagar, North Calcutta, which was named Ramakrishna Math. Here, in 1887, they formally disowned all their ties to the world and took vows of monkhood. The brotherhood was re-christened and Narendranath emerged as "Vivekananda-the bliss of discerning wisdom." The brotherhood performed yoga and meditation and lived off alms donated during the holy begging or 'madhukari'. During his phase, Vivekananda heard an inner call for a higher mission in his life. With the thought of his Master in mind, the question and awareness of what Sri Ramakrishna's message to the modern world and India in particular was, led him to embark on a long journey of exploration and discovery of India on foot as a 'Parivrajak'. Deeply moved by the poverty and backwardness of the masses, he was the first religious leader in India to understand and openly declare that the real cause of India's downfall was the neglect of the masses. He understood that the downtrodden masses lacked faith in themselves. To rekindle this faith, Swamiji realized that the only way to do so was to instill the Vedanta – secular knowledge to improve their economic condition and spiritual knowledge to infuse faith in them and strengthen their moral sense. And this knowledge could only be accomplished through education. This gave birth to the Ramakrishna Mission a few years later.
Attending the Parliament of Religions
While the above ideas were taking shape in his mind, Swami Vivekananda heard about the World's Parliament of Religions to be held in Chicago in 1893. Two reasons urged him to attend the Parliament. One, it would be the right forum to present his Master's message to the world and two, to seek financial help for the uplifting of the masses. With funds provided partly by his Chennai disciples and partly by the Raja of Khetri, Swami Vivekananda left for America from Mumbai on 31 May 1893. On 11 September 1893, when the time came, he stunned everyone with his opening line "My brothers and sisters of America". He received a thunderous standing ovation from the audience for the opening phrase. He then went on to describe the principles of the Vedanta and their spiritual significance. This put Hinduism on the map of World Religions.
LifeSign ME Lite – Transit Predictions are based on the transits of Sun, Jupiter, and Saturn by comparing the sign change of planets with their positions in the birth chart. Get it on PlayStore – INSTALL NOW
Swami's speeches made him famous as an 'orator by divine right' and as 'Messenger of Indian wisdom to the Western world'. He spent almost three and a half years spreading Vedanta as lived and practiced by his Master, in London and the eastern parts of the USA. Upon his return to India in 1897, he delivered lectures in various parts of the country. Through his lectures, he attempted the significant following:
Arousing the religious consciousness of people and creating in them a pride for their cultural heritage.
Bringing about the unification of Hinduism by pointing out the common bases of its sects.
Focusing the attention of the educated people on the plight of the downtrodden masses and to uplift them by the application of the principles of Practical Vedanta.
On May 1, 1897, the Ramakrishna Mission was founded. The uniqueness of this was that the propagation of Practical Vedanta and various social services such as the running of schools, hospitals, etc, would be jointly undertaken by the monks and laymen. Keeping the welfare of his countrymen topmost in his mind, Swami Vivekananda urged his fellow countrymen to "Arise, awake and stop not till the goal is reached."
Death
Swami Vivekananda had predicted that he would not see forty years of age. At Belur Math, after going about his usual day, he retired to his room in the evening and died during meditation at around 9. He is said to have attained 'Mahasamadhi' and was cremated on the banks of the river Ganga. He had written to a Western follower just before his Mahasamadhi: "It may be that I shall find it good to get outside my body, to cast it off like a worn-out garment. But I shall not cease to work. I shall inspire men everywhere until the whole world shall know that it is one with God."
Legacy
The true foundations of India's unity were revealed to the world by Swami Vivekananda. He ended India's cultural isolation from the rest of the world. Netaji Subhash Chandra Bose once said: "Swamiji harmonized the East and the West, religion, and science, past and present. And that is why he is great. Our countrymen have gained unprecedented self-respect, self-reliance, and self-assertion from his teachings."