Vaikunta Ekadashi – Password for entering the gates of Heaven
Important Timings On Vaikuntha Ekadashi

Vaikuntha Ekadashi on 

Monday, January 6, 2020

On 7

th

 Jan, Parana Time – 

01:30 

PM

 

to 

03:35 

PM

On Parana Day Hari Vasara End Moment – 

10:05 

AM

Ekadashi Tithi Begins – 

03:06 

AM

 

on

 Jan 06, 2020

Ekadashi Tithi Ends – 

04:02 

AM

 

on

 Jan 07, 2020
In an era where everyone runs helter-skelter in search of peace, religion and spirituality seem to be the most common doors knocked upon. One such Vrat, Vaikunt Ekadasi seems to take a solid place in the minds of people that are believed to take them to "Vaikunt' without having to face 'YamaRaj', the God of Death. The Sanskrit word Ekadasi literally means eleven. Ekadashi is the eleventh of the fifteen-day lunar month. Every calendar (solar) month there are two Ekadasis. Since there are 12 months in a year, with two Ekadasis in each month, there are 24 Ekadasis in each year. Vaikuntha Ekadasi is considered to be the King of all Ekadasis put together.
LifeSign ME Lite – Transit Predictions are based on the transits of Sun, Jupiter, and Saturn by comparing the sign change of planets with their positions in the birth chart. Get it on PlayStore – INSTALL NOW
Vaikuntha Ekadashi is also known as 'Mukkoti Ekadashi' in the southern states of India, celebrated in the month of Margazhi of the Tamilian calendar. In Kerala, it is known as 'Swargavathil Ekadashi'. Celebrations in the temples of 'Tirumala Venkateswar Temple' at Tirupati, the 'Mahalakshmi Temple' at Gubbi, the 'Sri Ranganathaswamy Temple' at Srirangam and 'Rajagopalaswamy Temple' at Mannargudi are very renowned. Lakhs of people throng to these temples. It is firmly believed that the Vaikunta dwara– the gate of Lord's inner sanctum is opened on this day! On this day special prayers, discourses, speeches, and yagnas are organized at the temple of Lord Vishnu, in different parts of the world. Tulasi leaves, Payasam, fruits and sweets are offered as Naivadyam along with prayers by the devotees, to Lord Vishnu. Shri Vishnu Sahasranamam, Vishnu Puranam, Narayana Kavacham, Ashtakashari mantra, and the Narayana Mantra are recited. Devotees stay awake at night listening to the stories and singing bhajans in praise of Lord Vishnu. One must shed the ego and worship Lord Vishnu to reach Vaikuntha after death. By keeping a fast on the Vaikunta Ekadasi day, devotees prepare themselves to attain salvation.
LEGENDS
On this day during the "Sagara Mathana", nectar had emerged out of the ocean of milk and was distributed among the Gods. Devotees consider this day very auspicious. There goes a strong belief that those who die on this day are freed from the rounds of birth and death and reach Vaikuntha, the abode of Lord Vishnu.
A demon, Mura, oppressed the gods. Lord Hari was approached by the gods for protection. Yoga Maya was sent by Lord Hari to kill the demon. Yoga Maya carried out the command of the Lord successfully. Then the Lord said to Yoga Maya, "You will be called by the name Ekadashi and those who observe Ekadashi will be freed from all sins."

Spiritual Significances
Devotional services performed on Ekadashis are more effective. The devotees should consider each Ekadasi as an opportunity to progress in their path of spiritual evolution.
Attaining the strength to endure the austerities and prevent oneself from giving away to emotional and sensual temptations is the key to achieving the spiritual goal.
The basic principle of Ekadashi Vrat is not just avoiding food but to prevent the demands of body & senses. It includes preventing sexual desires too. By doing so, the devotees can purify themselves both internally and externally.
Scientific Significances
Atmospheric pressure will be low on Ekadashis. So, fasting these days can work better in cleansing the digestive system which is usually tired due to our improper eating habits.
Health benefits of bi-monthly Ekadashi Vrats include reducing the fat content of cholesterol, eliminating the toxins, rejuvenating the functioning of the liver & kidneys and purifying the blood.
Ayurveda also cites over intake of food as the cause for lethargy and illnesses. We have to maintain our stomach healthy by eating simple and easily digestible foods.
RITUALS
Generally, five customary routines are strictly followed on this auspicious day to seek the blessings of the Lord.
Chanting the Hare Krishna mantra: the mantra is chanted 108 times (one round on the Japa mala).
Hare Krishna Hare Krishna Krishna Krishna Hare Hare
Hare Rama Hare Rama Rama Rama Hare Hare
It is stated in Upanishad's that there is no routine more exalted than to chant the mantra. It is said that the chanting of this mantra purifies our heart, relieves us of all the miseries in our lives and also makes it the easiest path of spiritual realization in Kali-Yuga.
Reading the Bhagavad Gita: Gita Jayanthi normally falls on the same day as Vaikunta Ekadasi. It is the day when Lord Krishna instructs Arjuna in the essence of spiritual knowledge. Hence reading the Gita is a highly recommended spiritual activity. It is considered that reading the Gita is as good as associating with Lord Krishna since The Gita was spoken directly by Lord Krishna. Devotees stay awake on the night of Vaikunt Ekadasi listening to stories and singing devotional songs.
Visiting a temple of Lord Vishnu: A temple of Lord Vishnu or any of his avatars is visited. A special entrance called Vaikunta Dwara is erected on this day, in certain temples. It is believed that anyone who passes through this Dwara (passageway) on this auspicious day attains Vaikunta. If you have Deities of Lord Vishnu, Lord Krishna or any other of His avataras (Lord Rama, Lord Narasimha, etc.,) on the altar at your home, you can decorate the altar and Deities and perform special worship along with your family members.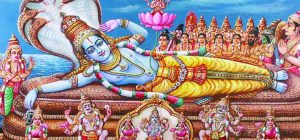 Keeping a fast: A strict and complete fast is observed. You are to eat only once on "dashami" (10th) day. For those devotees who are not able to fast completely can eat fresh & dry fruits, vegetables, nuts & nut oils, coconut, cassava, potato, sweet potato, buckwheat, olive, sugar, rock salt, pepper, ginger, milk etc. Consuming rice and grains are not allowed on this auspicious occasion along with peas, beans, tulsi, tamarind, custard, sesame seeds, mustard, salt, baking soda, baking powder, asafoetida, cloves, fenugreek, cardamom, nutmeg, fennel, etc. Not just for our body and mind, but fasting has a lot of spiritual benefits too.
Here goes a legend as to why no rice should be taken on Ekadashi days. It is said that the sweat that fell from the head of Brahma assumed the form of a demon and said to the Lord, "O Lord! Now give me an abode to dwell", to which Brahma replied, "O demon! Go and live in the rice particles eaten by men on Ekadashi day and turn into worms in their stomach."
Offering Seva to Lord Vishnu: try and get involved in any of the Sevas available at your temple.
To earn the maximum benefit of Ekadashi Vrat, one should observe a complete fast or consume only water. To end the fast, 'Parana' which means breaking the fast, is observed! It is done usually on the morning of the next day after sunrise within the Dwadasi hours. A devotee can break the Ekadashi fast by consuming fruits and rehydrating the body little by little. Those who can't observe complete fasting due to health issues can have a single meal of permitted foods such as fruits, roots, milk, nuts, etc.