Vivah Panchami
Vivah Panchami is a popular Hindu festival celebrated as the wedding anniversary of Bhagwan Shri Rama and Mata Sita. As per Hindu Panchanga, Vivah Panchami is celebrated on the fifth day of the Shukla Paksha during the month of Margashirsh. It is believed that Bhagwan Rama is the incarnation of Bhagwan Vishnu who got married to Goddess Sita.
Vivah Panchami Dates – Saturday, 19 December 2020 

Tithi – Margashirsha Shukla Panchami

Panchami starts – 2:22 am (At night on 18 December 2020) 

Panchami Ends – 2:14 pm (Noon at 19 December 2020)

Months – November / December

Significance – Marriage Anniversary of Bhagwan Shri Rama and Mata Sita.

Rituals and Celebrations – Bhajan Kirtan, Chanting, Vivah Samaroh, Prayers in Shri Ram Temple.

Prominent Places – Ayodhya, Mithilanchal Region, Shri Ram Temple, Janakpur Nepal, Ram Janki Mandir Nepal.
Similar to any Hindu wedding, the celebrations of this festival began several days before. Devotees perform all the rituals with full happiness, devotion, and dedication as if they are participating in a marriage ceremony of a dear one.

Significance of Vivah Panchami
According to Hindu mythology and ancient scriptures, Vivah Panchami is of great significance as it is regarded as an auspicious and sacred day. To commemorate the divine wedding ceremony of their favorite deity, a huge number of pilgrims gather together from many parts of India and other countries and become a part of the grand celebrations.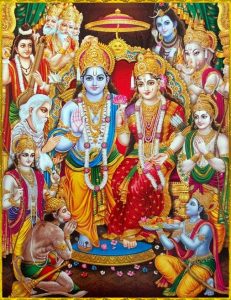 The celebrations of Vivah Panchami take place across India in almost all the regions at Ram-Sita temples. But the Amongst rest of the parts of India, most grandeur celebration is observed at Ayodhya, the birthplace of Bhagwan Rama, and Janakpur, in Nepal, the birthplace of Goddess Sita. On this auspicious day, temples are adorned with lamps and lightings. A divine wedding ritual takes place where the statues or the idols of deities are beautifully adorned with jewelry and clothes like bride and groom and marriage ceremony takes place with sacred Hindu marriage rituals and Vedic procedures. This social occasion is widely popular as 'Ram Vivah Utsav'. Peoples also perform the ceremony at their homes or in close communities with friends and families. It is said that involving and witnessing the festival endows the married life of couples with harmony and happiness bringing peace and prosperity in life. Celebrating the festival of Vivah Panchami brings equilibrium and removes obstacles, also, those facing any problems getting married get blessed with a perfect spouse or life partner.
All You Need To Know About Horoscope And Marriage Compatibility
Devotees take a bath in the morning and wear clean and new clothes. 

Sthapana of idols of Bhagwan Rama and Mata Sita is done.
Bhagwan Ram is offered Yellow robes and Mara Sita Is offered Red clothes. Either the priest or members of the family recites "Vivah Prasang" from the holy script of Baal-Kand. It is considered auspicious to recite the marriage story of Bhagwan Rama and Sita. The recitation of Ramcharitmanas on this day also makes family life pleasant. Worshipping Bhagwan Rama and mother Sita leads to the removal of all domestic discord in the family.
Devotees chant divine mantras and sing devotional and sacred songs (bhajans) in praise of the deities. An artistic performance called 'Ramleela' takes place depicting the Vivah Panchami at various places. After that, Vivah Panchami Puja is performed by the priest and the celebration culminates with Aarti and Bog Prasad.
!! Hare Rama Hare Rama, Rama Rama Hare Hare !!

!! Hare Krishna Hare Krishna, Krishna Krishna Hare Hare !!
Previous: Dhanu Sankranti