Krittika Nakshatra
Today Panchangam

Mar 19th, 2021 – Friday

Today Star: Krittika (Today upto 01:44 pm)
Thithi: Shashti (Next Day upto 04:48 am)

Karanam: Pig
NithyaYoga: Vishkamba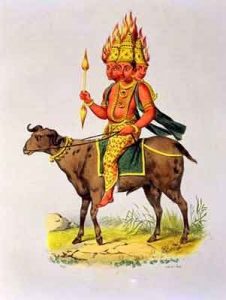 Starting from 25:41 of Aries to 10:00 Degree Taurus, Krittika Nakshatra is the third Nakshatra among the 27 Nakshatras. When a Nakshatra falls in the last padha, so it naturally acquires the qualities of next Rashi too. This Nakshatra is ruled by the planet Sun, and its deity is Agni – the god of fire. People belong to this Nakshatra exhibits the qualities of the Sun. Since Krittika Nakshatra lies between Aries and Taurus, these people also are ruled by mixed energy of Mars and Venus which are the natural lord of Aries and Taurus too.
Most Trusted Muhurtha and Panchanga Software – Get quotes Today!!!
As per Brihat Samhita, Krittika is a masculine star, but it is known as the foster mother of Kartik who was the commander in chief for the demigods. This Nakshatra's lord is Sun, who is a Satvik planet, this Nakshatra is the foster mother of a commander for armies and deity is Agni, another form of purity, this is an intense star which can be very destructive if it is confronted with ungodliness. This star is all about anger, fire, wars, and action. This Nakshatra also represents stepmothers, nannies, foster parents, and nurses too.
 What is Panchangam?

The first padha of Krittika Nakshatra falls in the Sagittarius Navamsa which is ruled by Jupiter. These people are quite mystical and they are like born detectives. They can even become good occultists and efficient in mantra or tantra as well. These people easily get angry and then become bossy as well. They should control these tendencies.
The second padha of this Nakshatra falls in Capricorn Navamsa whose ruler is Saturn. This padha people also are very mystical and they can even try their luck by being an astrologer or fortune-tellers. They will be interested in learning ancient texts. As they are ruled by Sun they will be interested in showing light into other's life like a foster mother.
Third padha of Krittika falls in Aquarius Navamsa which is also ruled by Saturn as the second padha. They will be working so hard to attain their goals and for some people can feel their efforts are not producing the results which they are expected.
The fourth padha of Krittika falls in the Navamsa of Pisces which is ruled by Jupiter. These people can be more materialistic than people of other 3 padhas. But they also will be interested in learning ancient texts and being in other services without expecting any profit. All they have to think about is being in situations where it can increase their self-worth.
Career Sectors of Krittika Nakshatra People
Spiritual teachers, advisers, musicians, dancers, singers, modeling, fashion designers, military careers, inventors, discoverers, excavators, heads of state or organizations, fire & police department personnel, barbers, butchers & tailors, weapon makers, potters, blacksmiths, carpenters, building contractor, magicians, metaphysicians and astronomers. Managers, critics, generals, university jobs, generals and people in authority, surgeons, lawyers, judges, swordsmen, fencers, blacksmiths, glassmakers, jewelers, people making swords and sharp instruments; military professions, police, firefighters, people working in orphanages and foster care homes, creative arts involving the use of fire, all kinds of rehabilitation including addicts of smoking, drug, alcohol, obesity; professions for self-improvement and assertiveness; spiritual teachers promoting purification methods or worship including the Fire and Sun; professional archers or dart players; fire sacrifices and fire dancers; barbers; hairdressers; work with needles like vaccination and embroiderers; miners; gold diggers; cooks; people making clay products for creating ceramic objects and building houses; furnace makers; all professions including the use of sharp objects and fire.
Previous: What Does Your Nakshatra Say About You? – Ashwini Nakshatra